Our convenient and affordable coach tours provide an excellent opportunity to head out and visit popular attractions throughout the UK and Europe. Experience these destinations as part of a group and learn a little about some places that you might not otherwise have visited.
What tours can we provide?
We are experienced travel providers who regularly carry out successful tours throughout the UK and Europe. These range from day trips to UK seaside towns and attractions such as Hastings and Brighton, through to excursions onto the continent such as visits to Bruges Christmas market, Disneyland Paris, or Rouen. Wherever we're heading, we'll always welcome you on board with a smile and will make sure that you have a comfortable and enjoyable trip.
Our most popular tours are:
LONDON DEPARTURE DAY TOURS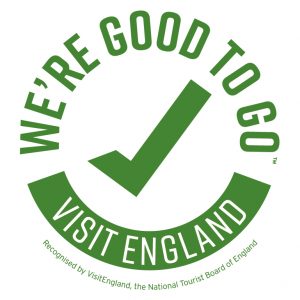 PEACE OF MIND WHEN YOU TRAVEL
Abbey Travel have successfully completed the Visit England assessment to demonstrate that Government's COVID-19  guidance has been implemented, that we fully understand the guidance from Public Health England and we have a COVID-19 Risk Assessment in place.
Find out more about the 'We're Good to Go' scheme
Explore
our fleet
The size and variety of vehicles in our fleet allows us to handle a wide range of different jobs. When you contact us about the tours we offer, we'll discuss your requirements and will determine the most suitable vehicle size for the trip.
Embracing modern technology
Our coaches are fitted out with technology such as real time GPS tracking and forward and rear facing dash cams that let our team monitor how your journey is progressing. If there are any potential issues that could cause problems along your route, we can identify and avoid these before they create delays and spoil your experience.
Finding a way
We love to take on new challenges. If there's a tour destination that you'd like to see us cover – get in touch and discuss your idea with us. We'll do what we can to see if there's enough demand to make it work. Our fleet contains vehicles of all sizes and we'll always try to find new uses for them that benefit our customers.
Using our experience
We've been building up our experience within the industry since the company was established in 1998. During this time, we've learned exactly how to provide the support that is required to make a tour successful. We've also learned how best to catch any issues that could undermine these efforts.
Preparing for success
All our tours are well researched ahead of the date of travel to make sure that a suitable route is in place and any potential issues have been identified in advance. We always double-check the schedule to ensure that our timings are accurate. By preparing in this manner, we make sure that each tour runs smoothly.
Focusing on safety
Our vehicles receive in-depth maintenance inspections every six weeks so that they are kept in perfect working order. This minimises the risk of any breakdowns or complications that could interfere with your tour and prevent you from being able to enjoy visiting your chosen destination.
Minimising our impact
We invest in modern, fuel efficient vehicles that minimise the impact our tours have on the environment as much as possible. Travelling as a group using a coach is already an efficient and environmentally conscious method of transport, but we always strive to set the best example that we can.
Call us on 020 8312 9514 or email info@abbeytravel.com and we'll find the right coach for you and your group. We're always happy to discuss our services and to answer any questions.