Safety is something that we take extremely seriously at Abbey Travel, both in terms of the safety of our fleet and the safety of our passengers while they're travelling with us. We refuse to cut corners in either of these areas, choosing instead to invest time and money into these concerns and to place them at the heart of our business.
Taking safety seriously
We have a responsibility to each of our passengers, regardless of the length or nature of their journey. As a large and well-established coach company, the size of our fleet and the skills of our in-house maintenance team allow us to be uncompromising when it comes to safety. While smaller companies may struggle to stay on top of maintenance, our large fleet can easily handle vehicles being temporarily taken out of use for servicing. As we maintain all our vehicles ourselves, we have complete control and can guarantee a high standard.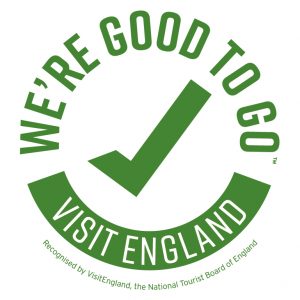 PEACE OF MIND WHEN YOU TRAVEL
Coach travel is an ideal option for safety-conscious passengers who are looking for peace of mind when travelling. Not only are our coaches maintained to a high standard every six weeks so that we can catch any issues before they develop into problems, they're also driven by experienced drivers who strictly adhere to safety regulations and the rules of the road. All our drivers are friendly, knowledgeable and, thanks to their uniforms, easily identifiable, and they will take you and your group straight to your destination. This means that you'll know exactly where you're heading, who you're travelling with, and you'll be able to relax knowing that an experienced Abbey Travel team member is taking you there in a well-maintained vehicle. What a relief!
Investing

Safety is a key area of innovation within the transportation industry and impressive new safety features are released on a near-constant basis. We take advantage of these developments by investing in vehicles that include as many safety features as possible, providing a solid technological foundation that is needed to ensure high safety standards within our fleet.
Seatbelts
All our vehicles are fitted with seatbelts (either three-point or lap) to protect passengers in the event of an accident. These are checked every six weeks as part of the wider maintenance inspection to make sure they are fully functional.
Braking
Our vehicles have anti-lock braking systems (ABS) and electronic braking systems (EBS) that ensure all braking happens quickly and in a controlled manner. Our newer coaches also have active collision avoidance braking systems that respond to the position of other vehicles, reducing the risk of accidents.
Speed limiters
All our vehicles are fitted with speed limiters that prevent them from exceeding 62mph/100kph. This guarantees a safe and comfortable journey for our passengers and ensures they cannot be driven at excessive or dangerous speeds.
Onboard cameras
Our coaches are fitted with forward and rear facing dash cams that allow the driver to see more of the road surrounding the vehicle. These camera feeds can also be accessed by our office team using our Samsara system so that they can see what the traffic and road conditions are like on the vehicle's route.
GPS tracking
Each of the vehicles in our fleet has been fitted out with real time location tracking. This can be monitored by Samsara, along with further information such as the speed of the vehicle. The technology allows us to know exactly where our coaches are at any given time, and how they are being driven.
Maintenance alerts
Samsara sends us pre-maintenance inspection alerts for each of the vehicles in our fleet so that we know exactly when they are due. This simple feature ensures that we always stay on top of our maintenance schedule and no vehicles are missed, despite the large size of our fleet.
Acting to improve safety
Although we have a wide range of safety features in place within our vehicles, we also monitor our behaviour to make sure that we're doing everything we can to act in the best interests of our passengers.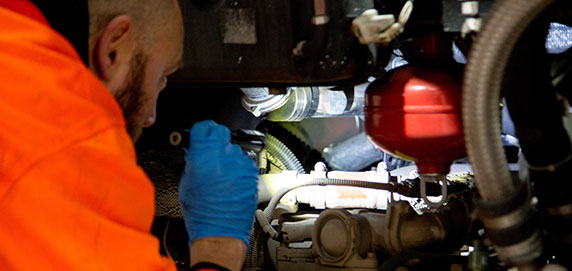 Rather than stick to the eight-week inspection cycle that is mandated by the Driver and Vehicle Standards Agency (DVSA), we inspect and maintain all our vehicles every six weeks instead. These inspections are particularly rigorous as we include additional procedures such as roller brake testing, and we replace the tyres ahead of schedule. We also carry out all our maintenance in house so that we have control over the standard.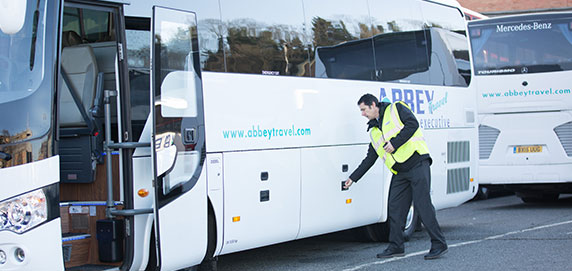 Strict on following the rules
We strictly adhere to all the rules and regulations within the industry, paying close attention to vehicle weight limits and drivers' hours for every single journey. To maximise the distance that can be covered quickly and safely on longer journeys, we will always choose to play it safe and provide an additional driver, looking after our staff and our passengers. We also refuse to run older vehicles that are past their prime.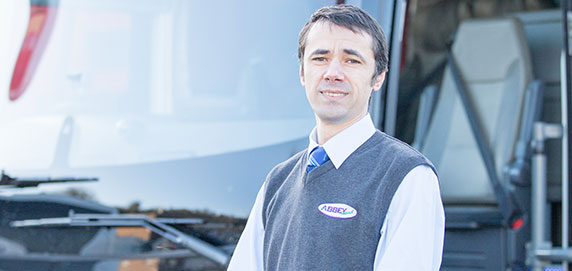 Experienced, professional drivers
The professionalism of our drivers guarantees that your journey will be safe and comfortable. All our drivers are experienced and will approach each journey in a sensible manner; they will not take any risks. We also require each of them to have an enhanced DBS certificate, indicating that they can work safely with children or vulnerable adults and will be suitable for a wide range of jobs.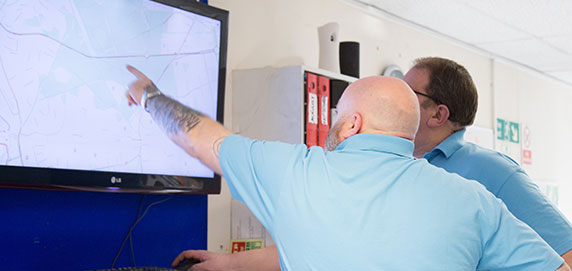 To make sure that every single one of our journeys proceeds smoothly and safely, we take the time to carefully plot out a route and check for potential issues well in advance. This ensures that we know exactly where we'll be going and how we'll be getting there, avoiding the risk of getting lost or losing time while getting back on track. We also keep up to date with safety developments by regularly attending bus and coach shows.
Call us on 020 8312 9514 or email info@abbeytravel.com and we'll find the right coach for you and your group. We're always happy to discuss our services and to answer any questions.